November 2011 Washington FTC Qualifier
Washington State FTC Qualifier

November 19/20, 2011
We had a lot of fun. There were lots of robots to look at, and watch play the game.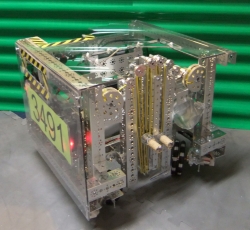 Our robot had problems. The wires that connect to the motor hubs came off. They were exposed and only held on by elastics. We fixed that issue by adding 2" standoffs behind each motor to keep the elastics from being pulled off.
The field we were on was plagued with wireless problems. Some of our matches had to be restarted 3 or 4 times which was very discouraging.
Our drivers didn't have any practice driving down the ramp. The robot was suppose to go down the ramp in autonomous so we didn't practice driving. With only one autonomous program, in some matches, our partner took that spot and we didn't run our program.
When our drivers had to drive down the ramp, our robot would flip over. Finally, we realized that we had to run our autonomous program, even if it was starting in the wrong spot. From then on, the robot didn't flip.
Even with our poor matches results, we were delighted to get the Think award and qualify for the State Championships.
Find out more about who are the FTC team 3491
FIX IT.