Robotics Day June 11

Robotics Day
Saturday June 11, 2011
Hosted by the FIX IT Robotics Team, who have just returned from the FIRST Tech Challenge (FTC)
World Championship for high school teams.
Robotics Day was a wonderful opportunity to share our enthusiasm for robots with lots of people.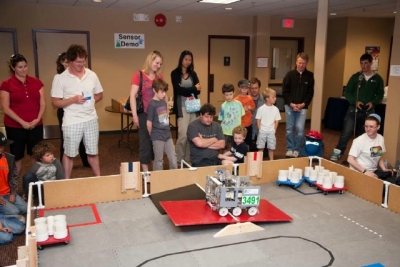 There were always crowds when the FIX IT team was demonstrating their robot.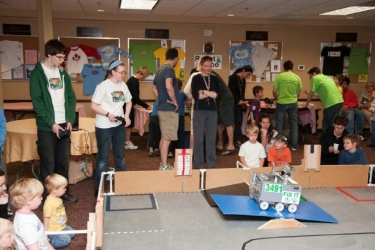 But the longest lines were for the kids who wanted a turn to drive the robot!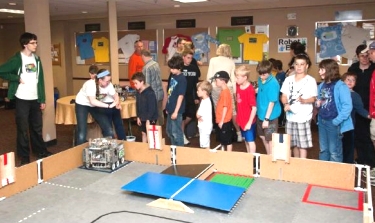 The FIX IT team display had everything from a CAD image to display running the video from the
World Championship in St. Louis.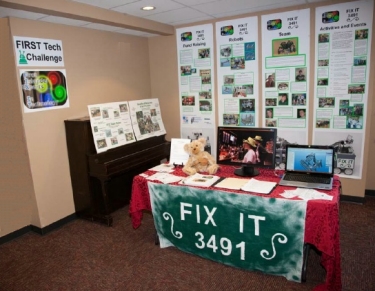 This display shows all our teams, and their awards, over the last five years.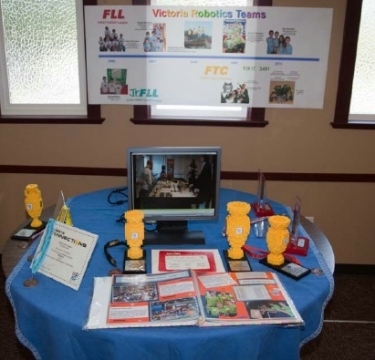 The Hurricanes were very busy showing their robot and telling visitors all about FIRST LEGO League.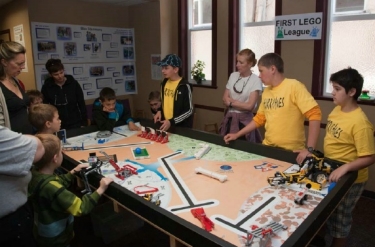 Robotics Day was a lot of fun, and we may do it again next year.
Free Afternoon Activities
Robot Exhibition
Hands on Robots
Find out about FIRST teams
Speaker Schedule
Robotics Workshop 10am - 12 noon $15.

Workshops are full.

Workshops to learn about building or programming robots. Kids, or adults will work in small groups to learn how to build different types of robots. Participants will be divided into groups based on their skill level and previous experience with robots.

Advance registration required
Contact uschi.leslie @ shaw . ca or 250-595-4453

Robot Exhibition 12:30 - 2:30 FREE

Kids, bring your own robot to display it for everyone. It can be made from LEGO, cardboard, or whatever material you choose. Invite your friends and family to come and see your robot on display. Get feed back from the FIX IT robotics team.

All About Robots 12:30 - 2:30pm FREE

Hands on Robots
Your chance to see a FTC robot in action, or take your turn at the controls. Have fun building with LEGO and get some building tips. Try controlling a robot using sensors.

Find out about FIRST Teams
Talk to FIRST Tech Challenge team members about being on a high school robotics team. See a FIRST LEGO League (FLL) team in action. The Hurricanes, just home from the World Festival in St. Louis, will be demonstrating their robot. In addition to drop-in activities, speakers will be talking about different types of FIRST teams.

| | | |
| --- | --- | --- |
| When | Topic | Who |
| 1:00 pm | Junior FIRST LEGO League (gr 1-3) | Anna Graham, JFLL Coach |
| 1:30 pm | FIRST LEGO League (gr 4- 8) | Mark Sicherman, Vancouver Island FLL Organizer |
| 2:00 pm | FIRST Tech Challenge (gr 9-12) | Christine Nicholls, FTC Coach |
Win your own
LEGO® MINDSTORMS® Robot Set

Win a LEGO MINDSTORMS set worth $450!
Tickets are $2 each or $20 for 15 tickets.

Draw at 3:00pm

Proceeds go to the Victoria Robotics Club.