Saint Louis - Day Three
Friday
We had one match scheduled this morning. When they first posted the scores, it said we had lost. But there was an error in the scoring. When it was corrected, we won! That was a good way to start the day.
Here's a picture from queing this morning. The FTC teams are lined up along the black curtian. There's enough teams there for 2 matches. Our matches are played on the far side of the curtain. On the left hand side is the FLL tables in front of the LEGO screen.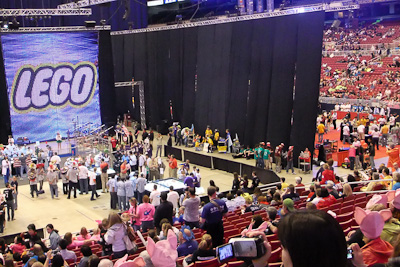 The stands don't look that full, but it's a huge stadium!
The Hurricances had three good matches today. They scored 300 in their first run, 350 in their second and 360 in the third. We were able to see most of their matches and it looked like they were having lots of fun.
After our first match, we had to wait until after lunch for our final three matches. Many teams had already completed all seven of their matches, but we had two matches from yesterday to be replayed and one scheduled match for the afternoon.
All the replayed matches were scheduled for right after lunch. Unfortunately, our two matches immediately followed each other. In the first match, there was some sort of electrical problem. We're not sure if it was another issue with the WiFi or if the baton that got caught in the robot jiggled the wires. Either way, our robot 'sat out' most of the remote controlled portion of the match.
That's when things got interesting. Our next match was already on the playing field waiting for us, but there was an electrical problem in our robot to solve.
The Field Tech came to try to help. He loved the way our robot was wired with the clear plastic panel on the bottom. He could actually see where all the wires came from and went to.
It took the team about 5 minutes to sort everything out, and then we were into our next match. Things didn't go as well as we hoped and it was another loss.
I checked the rankings at this point, and FIX IT was ranked at 61 out of 64 teams. That number was a bit discouraging, but we still had another match left.
In our final match, many things finally went right. We scored points, and balanced on the bridge at the end. It was nice to end the day with a good match and a win!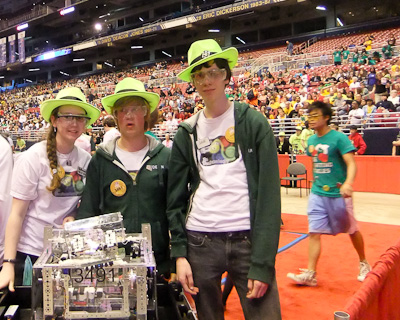 We jumped to 42nd place. FTC is like that. Win a match, and you can jump 20 places in the standings! If you look carefully, you can see team 3491 (FIX IT) on line 42 in the Edison rankings.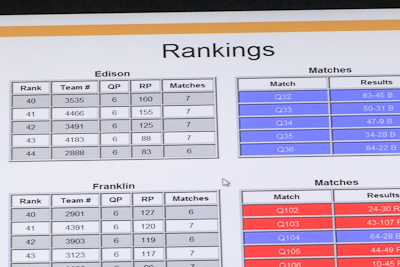 Ian and Devin had entered a contest being run by PTC who gives the teams ProEngineer, CAD software. They had to design a new component in 15 minutes. Both of them got it finished in the time allowed, now we just have to wait and see how they do.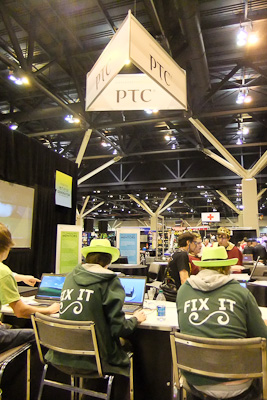 Tonight, the team is off to the concert by will.i.am of the the Black Eyed Peas for all the FIRST teams. In fact, will.i.am had worked with a team from California to create robot that ran a match against Dean Kamen. It was fun for everyone to see them on the field with FTC teams.
We've had a good few days, and tomorrow we'll be up early to go cheer on one of the final alliances. There are three teams we know from the Pacific Northwest, includng a team from BC. They start at 7:30 tomorrow morning!
Continue reading Saturday, Day Four of the tournament.