FLL Kick-Off 2012/13
FIRST® LEGO® League

2012/13 Season Kick-off

FIRST LEGO League (FLL) teams design, build and program an autonomous robot to compete in the Robot Game, and do a Research Project about problems or opportunities facing the world today.
FIRST will be releasing the 2012/13 FLL Challenge Senior Solutions on August 28, 2012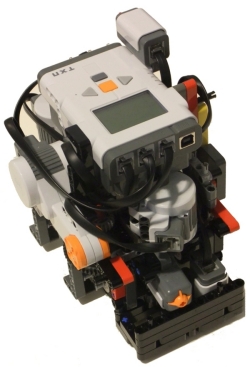 Join Victoria area teams as we learn about this year's robot challenge and research project. You'll be able to see the mat and mission modules for this year's Robot Game. Students who would like to find out more about FLL, or are looking for a FLL team, are welcome.
There will be short workshops on Building Robots, brain storming how to Solve the Missions and even how to Start a New Team.
You don't need to be on a team to come to Kick-off. New teams are still being formed.
When:
Tuesday August 28, 2012
5:30 - 8:00pm drop-in
Where
Emily Carr Library 3500 Blanshard St.
Who:
Students age 9-14y (please bring a parent)
Admission is free. Adults are welcome with or without students.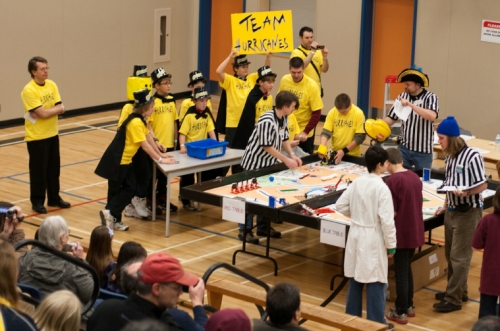 We often hear from parents or grandparents who would like to find a team in their area. Now is the time when teams are looking for new members, or maybe there's enough interest to form a new team in your community or at your local school.
If you know someone who would like to get involved with a FIRST team (from K-grade12) please complete the new member form. If you are an adult who would like to volunteer to help a team, go ahead and fill in the form for yourself.
If we know of a team looking for new members, we'll pass your information along to that team. When there's enough interest to form a new team, we'll try to get everyone together and talk about how to form a team. It's up to you to decide if it's the right team for you.
Workshops will last about 20 minutes. Some will be hands-on, others will be more of a Q&A format. Most topics will be offered at least twice between 5:30 and 8:00pm.
Robot Design - learn about different robot designs (3 wheels vs 4 wheels, pivot wheels vs skids, ...) and find out the pros and cons of each design.
Programming Robots - Learn the basics of programming robots in NXT-G.
Robot Attachments - what are some multi-purpose attachments that have been useful in previous FLL challenges
Using Sensors - Which sensors are the most useful for FLL teams, and how to read sensor values on the NXT. How robots can use sensors in FLL competitions.
Brainstorming Missions - See and talk about the missions for this year's Robot Challenge. Test out the modules to find different ways the robot might score points.
Coaching Tips - Talk to experienced coaches to find out what FLL teams do, and even how you could become an FLL coach.
Research Project - What are the requirements for the Senior Solutions project? Share ideas for field trips or experts in the community.