December 2011 Washington FTC Qualifier
Washington State Qualifier III

December 19/20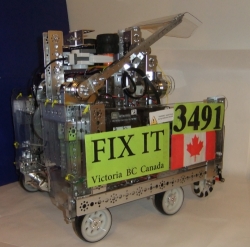 At the last minute, some of our team members couldn't go to the tournament. On Sunday morning, the first part of the day was spent practicing driving the robot with a new field team.
Once again, we were reminded of the importance of having drivers practicing with the robot, before we get to the tournament. Drivers need to learn to work together to pick up a balls, crates, and different scoring options.
In our first match of the day, the autonomous program worked perfectly and scored the bowling ball and the robot in the front parking lot. Unfortunately, the tele-op program didn't run and the robot sat out for that part.
The tele-op program was fixed by the next match and everything worked for the rest of the day.
We used two autonomous programs depending on what our partner wanted to do. Either way, homing in on the IR beacon was very reliable.
We did get to use the crate lifter in one match. It was great and scored a 40 point bonus.
Over all, some of the matches went very well. The mechanisms were always working. It was the drivers that needed more practice at scoring in a limited time period.
The flipper arm was effective and was used in a variety of different ways.
We used the ball collector. The wheels could be an inch closer to the ground. It would often pick up a ball but some times, the ball would pop out the bottom. It was awkward to drop them into crates. One time the ball bounced out. For a temporary replacement with almost no testing or practice, it was a good mechanism.
We won 4 out of 7 matches and ranked 12 out of 24 teams. We were the 10th pick in the alliance selection. Our alliance captain was the Titan Robotics, In the semi finals. Our alliance was tied and there was a final match which was played by the two other teams in the alliance. Unfortunately, Titan lost connection and they lost that match. Our alliance didn't make it to the finals.
It was a good day. We got to see how the robots are improving and got some new ideas that should help our designs.
Find out more about who are the FTC team 3491 FIX IT.