FTC BC Championship
The FIX IT Team will be at the

World Championship in St. Louis!
In planning for this season, the FIX IT set a goal of having a working robot with trained drivers for every tournament. About two weeks before the BC Championship, we stopped working on new mechanisms, to focus on getting everything reliable.
It worked! Our robot had no major technical problems, and we scored points in every match! What a difference from last year!
The highest scoring match of the qualifiers was when we were partnered with 417 - Swerve and our alliance scored 66 points. In all matches, most of the points came from robots balancing on the bridges. A few points came from batons being put in the rolling goal. Only once did we see a baton dispenser emptied during autonomous. You can read more about the FTC Game and how points are scored on the US FIRST website.
After all teams had played four qualifying matches, there were two teams tied for first place, 3491 - FIX IT and 3717 - CyberKnights. We were the only teams who had won 3 out of 4 matches, and we had the same ranking points. CyberKnights won their fifth match and so did we. In the end, it came down to ranking points to decide the top team for alliance selection.
Our ranking points are the total points scored by the alliances that we won against. The Cyber Knights' opposing alliance scored more points in their final match than the alliance FIX IT was against. CyberKnights would get to make the first pick for an alliance partner and chose 3231 - SyZyGy.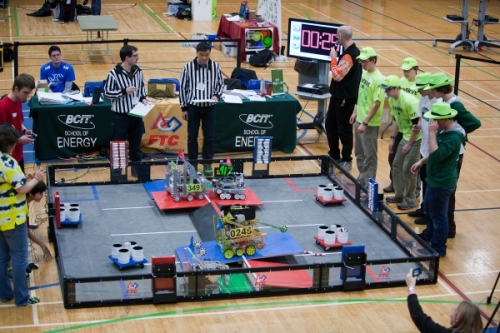 We were happy to choose 417 - Swerve as our partner and become the 'alliance of the neon hats'. FIX IT is the team in the forest green hoodies on the right side of the photo. This photo shows the second last match of the day. FIX IT and Swerve have their robots balanced on the red bridge for an extra 20 points.
The final match of the day couldn't have been any closer. It was all about defence. The FIX IT alliance won by one point!
The FIX IT team was the Captain of the Winning Alliance and qualified for the FTC World Festival in St. Louis! Congratulations to CyberKnights who won the Inspire award and will be in St. Louis too!
A huge thank you to BCIT, the officials, the sponsors and all the volunteers who made this even happen.
Find out more about sponsoring the FIX IT team.